Realtors are making while their sun shines. In Georgia on the first Tuesday of every month realtors crowd in at court premises as per usual routine. The party is all about foreclosure auction . Details of foreclosed properties are read out in the presence of the borrowers and lenders. The former hardly ever make an appearance.
In Georgia and nearly half other countries in the country the lenders can sell off without going to court. The idea is that in a public sale the lenders would get more bidders than in a private sale.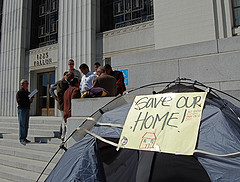 The Floyds of Flowery Branch, Hall County, have been in the speculating business for the last four years. Engaged in repairing the properties they report that it is a mixed bag they get – some decent while others are trash. It is the latter that they target. From the hard work they are lucky to rope in a few thousand dollars. It is a far cry from what is being said about their group.
Realtors are eager on sales as they rush around in casual wear with certified cheques in their pockets for spot deals. Houses with curbside views are preferred. The houses that are still in use presents problems, as there is no provision for inspection during occupancy. Another headache is that many properties were appraised at a higher value than their real worth at the time of sanctioning the sub-prime loan. In this situation the conductor of the sales enters a bid representing the mortgage holder to buy the said unit.
The premises of the County parking deck sees a tax sale held under the auspices of the Hall County Tax Commissioner's office. These tax sales are programmed to realize past tax dues together with allied penalties and fines. As per the rules and regulations in Georgia a property tax lien is given priority over other liens including mortgages. Linked with this is the stipulation that the first bid must be more than the pending taxes. The lenders or any other lien holder will share anything over and above this. The purchaser of tax lien may never lay hands on the property because the owner is allowed a grace period of a year to clear taxes with a 20% fine. After lapse of that period the tax lien buyer can then seek a 'quiet title' of the unit and take possession.
Photo By jacob_ruff