There are plans afoot to introduce registry of foreclosed properties in Brevard County. The officials of the county are mulling over establishing a registry to note down the properties (residential and commercial) that are under foreclosure in the un-incorporated regions of the county so as to able to locate them better and find out who or which entity was responsible for these blights; it would enable faster cleaning up.
The commissioners of the county gave the green signal to their staff to proceed with the working out of the details of how this registry process would kick off. It would require fixing how much would be charged by the county from the owner for registering. This model has been in force in a good number of cities.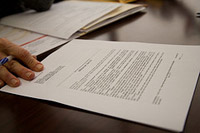 Robin Sobrino of Brevard County Planning (director) said in the report submitted to the commissioners, "The real estate foreclosure crisis has caused numerous residential properties to fall into a state of disrepair or overgrowth, much to the detriment of the surrounding neighborhood. Unkempt structures have created eyesores, as well as health and safety issues for the community at large."
Sobrino added that efforts to enforce code have come up with obstacles. It cannot find out who has the clear title; identification of the responsible entity accountable for looking after the property becomes difficult. This causes delay in correcting things. The unsafe conditions linger causing annoyance to the adjoining residents.
Sobrino explained that in many instances the staff spends more time doing research on ownership than inspecting the properties. She noted that this relates to 30% of the cases handled by the code enforcement officials. This research can run into many weeks and involves a lot of work.
She was hopeful that the introduction of the registry system would bring down the time and effort spent on research and it would ensure that the owners were quickly notified of the problems.
Chuck Nelson of County Commission (chairman) said that the details of foreclosed commercial units should also be included in the registry. He cited the example of a part of Merritt Island that was pulling down the worth of adjacent properties and creating unjustified problems.
Except for the negative vote of Trudie Infantini, all the other commissioners voted in favour of moving ahead with the plan. Infantini argued the idea saying it would introduce new strata of bureaucracy. She said that the foreclosure crisis was only a passing phase.
Photo by nerdcoregirl