Following the foreclosure crisis, the big banks have been withdrawing from servicing operations and giving them to companies, like Ocwen. Ocwen is now one of the leading firms in this field. Its approach is scientific.
Psychologists are engaged to guide the call centers when they approach the borrowers. Key words are also being prompted through computer systems to note the reactions that will give an insight into their inner conditions.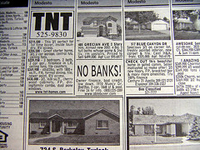 With this sort of approach, its employees reiterate that Ocwen has been able to help "thousands of distressed borrowers". The latter are asked if they would like to work with Ocwen. The Ocwen team tries to make the borrowers more positive and navigate them away from negativism.
Ocwen keeps its cost down by engaging three-fourths of its employees from India and Uruguay. Ed Delgado the CEO of Five Star Institute said, "Having a psychologist can be a benefit; it get the consumer to open up.
But I don't believe it will materially enhance the likelihood that a borrower will get back on track". The institute offers training to the mortgage industry. It has stressed that the vital thing is to get the troubled house owner back on the tracks after finding out whether he or she is able to continue with the loan payments.
Delgado said that, during the early part of the 90s, he had a psychologist give training to employees in groups on how to talk with financially strained consumers, when he had been working with a bank. But he noted that this had little impact on the repayment issue.
During the third quarter of 2011, Ocwen posted a net income amounting to $20.2 million. This can be compared with a net loss noted during this same period one year previously of $8.8 million. The shares of Ocwen have gone up by 43% this year; most of the stocks of financial service providers have declined in value.
There are however many challenges before Ocwen. More new loans are required as the dollar amount of the old loans drop due to refinancing or foreclosures. Since the onset of the crisis, the lenders are not issuing sub-prime loans – yet these comprise the staple food of Ocwen.
Analyst Bose George of Keefe, Bruyette & Woods said, "There's obviously uncertainty about what their business model looks like five years from now. But currently there's a good opportunity and the company is capitalizing on it".
Photo by Casey Serin