The foreclosure crisis has pushed Stockton to the brink of bankruptcy. The city authorities of Stockton desperate to dig out of the mega debt hole are one step away from making history –  the city will be the biggest one to declared bankruptcy. However a new law of California State could be a counter preliminary move to avoid such a thing from happening.
As per the law, the municipalities thinking about resorting to bankruptcy have to try to first negotiate with the creditors with the target of settling the debts without filing for protection under Chapter 9.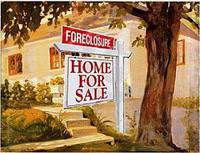 Many homeowners were present at the council meeting that lasted for 6 hours. They opposed the move to enter into the mediation phase apprehensive that it would push the city into further trouble. Stockton, home to 290,000 people ranks second in the country in foreclosure rates; it has the highest numbers in unemployment and crime.
Dawne Milnes, formerly a city manager said, "If they vote for mediation, it is the first step towards bankruptcy – that means 1,000 people could lose retirement benefits".
The state law will first be tested in Stockton. The Assembly Bill 506 was passed less than two months ago. It mandates that local administration has to undertake mediation sessions or hold any public hearing to announce fiscal emergency before proceeding with bankruptcy filing.
The biggest city of California to file bankruptcy in 2008 was Vallejo. In 2011 it came out of it.
In recent years new houses by the thousands had mushroomed in California and especially in Stockton during the boom years. There was hectic suburban development that drew purchasers from the Bay Areas and other far-flung regions. But with the crash of the housing sector the bubble burst. Stockton was decimated by foreclosures and the city lost out on housing tax revenue and other income from this segment. The labour contracts were for many years and these were another source of drainage adding to the financial woes of the city. The city administration had to make deep cuts in spending on an emergency basis; the police department was not spared.
Randy Thomas a Stockton broker engaged with Cornerstone Real Estate Group said, "It's been so challenging. Since 2008 the whole market was essentially turned upside down. A lot of folks were losing their homes. A lot of people were getting evicted, and it's been tough on a lot of people".
Photo by Mike Licht, NotionsCapital.com