The foreclosure of the 55 storey high Bank of America Plaza at Atlanta and its plans for auction on 7th February has raised an outcry. The auction will be held on the steps of the courthouse of Fulton County. The landlord Bentley Forbes defaulted on mortgage payments.
In 2006 Bentley Forbes had purchased the plaza for $436 million. The seller was Bank of America Corp and Cousins Properties Inc.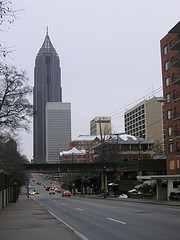 Following the peaking of the real estate market a year later this building standing on 1.25 million square feet has lost 54% of its worth. Its biggest tenant is Bank of America. The latter has cut down on space. Those who had helped in financing the purchase, the bond investors are facing losses as per the findings of Bloomberg.
Kirk Diamond of brokers Cassidy Turley (senior-managing director) of Atlanta said, "It's a fine building, a beautiful building, and still very much a landmark. It just needs to be recapitalized and written down to a market level to be able to compete effectively".
The office market in Atlanta has been clogged with over building. Property prices had been inflated during the boom. The demand of real estate by investors surged last January – the maximum since 2010 March indicating signs of strength in the economy. The borrowers in Atlanta and other such cities not included in the prime office property markets of Boston, Washington, Los Angeles and New York are having trouble with refinancing.
The vice chairman of CBRE Group Inc. of Atlanta speaking over a telephonic interview said, a huge amount of debt is about to come due. This will lead to "more distressed assets that come to the market this year". It would possibly lead to the lowering of price on buildings.
On the one hand lenders are facing losses while the property investment trusts are trying to fish in troubled water by buying buildings said RETI research's managing director Jim Sullivan of Green Street Advisors based in California's Newport Beach.
The booming and bursting of Atlanta's real estate market is at the heart of a novel by Tom Wolfe "A Man in Full". It portrays how a Southerner driven by ego builds up an empire from office complexes.
Right now Atlanta is going through the bust stage with increasing numbers defaulting on office loans.
Photo by disavian