The Treasury offers incentives in dollars to those services who permanently modify the troubled loans. But for the major part of 2010 it has not been paying Bank of America and JPMorgan Chase as the Treasury wants to see "substantial improvement"  in their performances.
Innumerable cases are cropping up of the bank wrongly foreclosing on borrowers. One is that of a paralyzed borrower of Oregon, Robert Galinida. Jumana Bauwens, spokesperson of Bank of America said that the bank had not done anything wrong; it had tried repeatedly to see that he remained current on his mortgage. It had reviewed his applications for two modifications and had thrice postponed foreclosure.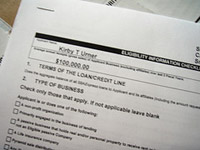 Galanida has been paralyzed from the shoulders down since an accident when he was a teenager. His mother Joanie Ahrenkiel, handles his affairs. She said she was unaware of all the dealings of the bank because she often failed to make contact with the representatives of the bank over the telephone; rarely did the same person speak to her a second time. This led to contradictory information.
Last September BofA gave Galanida in writing an assurance that foreclosure proceedings would be postponed while reviewing plans of modification. Only days afterwards the house was foreclosed and sold and an eviction notice was pasted on his front door. His mother bemoaned, "Maybe I screwed up somewhere along the way but this thing just got out of control".
Galanida has enough monthly income from a settlement following the accident to clear the mortgage. But trouble started when he wanted clarification on certain discrepancies he noted in the loan after Bank of India had taken over Countrywide. BofA then told him not to make monthly payments while they reviewed matters. The bank then foreclosed.
Galanida and his family had shifted to Oregon prior to constructing the house in 1997. For a good number of years he had made timely payment son his mortgage of $355,000. In 2003 and then once more in 2005 Washington Mutual foreclosed on his property. Ahrenkiel said the bank had mistakes Careless errors made by banks while managing mergers and integration lead to faulty foreclosure of Galanida.
The family has had to pay lawyers over $67,000 to clear the mess. This resulted in Galanida being weighed down with a huge loan balance, an increased rate of interest while the loan came to be serviced by Countrywide.
Photo by thekirbster