Eric Schneiderman has been thrown out abruptly from of the foreclosure abuses investigating team's executive committee.  His offence? He had been opposing the others regarding the broad liabilities of the banks.
The attempts to bring about a consensus among the officials of the government trying to reach a settlement with the banks over the foreclosure abuse issue were stumbling because of the efforts of New York AG to include in it the claims of both the consumers and the investors.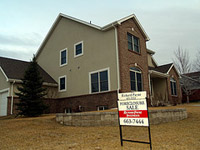 This line of action by Schneiderman was not liked by some officials of the government involved in these talks. They were of the view that the settlement should be limited to foreclosures and to mortgage servicing while allowing New York and some other states to follow their own investigations regarding pooling of mortgage-backed securities. The predecessors of Schneiderman have made use of Martin Act (a state law with a punch) to follow-up multiple abuses indulged in by Wall Street.
This crack between New York AG and other AGs has complicated matters for the Obama government. For many months the government has been trying to reach a $25 billion settlement to bring to a halt the investigations. Other states AGs have also expressed their concerns about the suggested agreement. Beau Biden the AG of Delaware said, "Attorney General Schneiderman has and continues to raise important and legitimate concerns".
Without the presence of Schneiderman the banks will in all probability agree to a sum that would be very modest. The banks will balk at any deal signed by all the attorneys general asking for a bigger amount and that will also leave the door open for other lawsuits to be brought against the offending banks.
A spokesman of New York AG said, "The attorney general is committed to a comprehensive resolution". He added that the investigations carried on by Schneiderman "has already produced results, and we are moving forward in an expeditious fashion".
Officials of both the state and federal governments are afraid that things would become complicated if the claims of the investors and borrowers are merged; it would further delay the settlement that had started in last autumn following the exposure of the robo-signing scandal. The banks are apprehensive that the amount would go beyond even $25 billion target.
An official said, "We are very far down the road for a settlement that will create servicing standards and will also result in a significant financial contribution towards helping homeowners and the housing market more generally".
Photo by david_shankbone