Foreclosure numbers are at the lowest since the last four years – since 2007 July. News to celebrate? Not necessarily. It is 4% drop from last March and 17% drop from March 2011.
A detailed look will show that the real estate market is complicated. It indicates that things will become worse before any long-term betterment really takes place.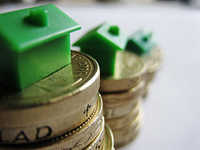 Including in the foreclosure group are default notices, scheduled auctions and bank repossession. Foreclosure 'starts'  numbers have gone down but the number of auctions have increased for three running months. There has been a 7% increase in March from last February.
In generally the market seems too rosy to be real. The house owners are continuing to lag behind on their housing loans at a fast pace although the banks have slowed down on their repossession operations. There are apprehensions that this is just the lull in the storm – that will soon break out in full fury.
Why is it so? The banks are now more conservative while Washington and many of attorneys general of states are crying foul over foreclosure abuses. But now that the settlement for $25 billion has been reached it seems that the foreclosure mills will start churning again. It will lead to more evictions and bank takeovers. Brandon Moore of RealtyTrac (CEO) said, "The dam may not burst in the next 30 to 45 days but it will eventually burst, and everyone downstream should be prepared for that to happen – both in terms of new foreclosure activity and new short sale activity".
The worst hit markets will bear the first thrust later in 2012. In Nevada the foreclosure start-ups spiked by 153%; in California default numbers went up by 14% in March from the previous month and in Florida the foreclosure filing ratio is 1:123.
The point to note is that property is always something local. Florida is most vulnerable but in Miami the prices went up by 1.2% from the last month. It could be because of an increase in vacation homes – it went up by 7% in 2011 as per National Association of Realtors.
According to Trulia prices have been going up in many places in Florida apart from Miami – West Palm Beach as well as Cape Coral-Fort Meyers region.
The scenario in California is different. The sale prices for houses are dropping across the state. In Sacramento and Fresno the drop is by 8.3% and 6.8% respectively while in Los Angeles and San Francisco the drop is by 5.4% and 2.9% respectively.
Photo by Images_of_Money