In Maryland State the problem of homeless school students, caused by foreclosure related problems, has reached alarming proportions and the trend is picking up speed. To the homeless child moving from one address to another and sometimes on to the streets and woods, the school is the only stable factor. Barbara Duffield of National Association for the Education of Homeless Children and Youth (director) said, "Schools are the most stable place they can be. The role schools have to play in responding to youth homelessness is really important".
One does not enter the homeless stage following the same route. Carl Love acts as a liaison agent in the county of Baltimore. He noted that some lose their homes when the landlord of the house where the family stays as tenants are foreclosed upon. They find it difficult to find affordable accommodation as the demand for rentals have shot up and with it rates. In some areas low-cost houses have been replaced by units valued at $300,000.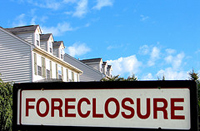 In the county of Anne Arundel some bought houses that were well beyond their means or contracted mortgages whose interest high jumped with the passage of time. These factors have led to foreclosures. The liaison in the county, Lynne Weise said she has witnessed people who had previously lived in houses worth $500,000 becoming homeless in Severna Park.  She said, "I am seeing an increase in the more non-traditional homeless, people who you never could have imagined being homeless".
One of the victims is Stacie Whitaker-Harris. She is a graduate in her mid thirties with three children. She lived the life of a middle class but fortune frowned in 2008. She could not find employment to support her children. They moved on from one family member to another until it became impossible to squeeze in with families that were already tight packed. Her teenage son Chae initially found it fun living with cousins but soon the newness wore off and the reality of their being hardly any moving space made life unpleasant. Finally they landed up in a home meant for homeless mothers – INNterim Residents. Here there were many like Stacie with a degree. One year previously they shifted to an apartment in Owings Mills where she has kicked off her own business arranging workshops and writing speeches.
Photo by taberandrew