In Michigan the foreclosure issue does not generally have to pass through the courts. It was the same in the case of Bill Donahue but at the eleventh hour when all avenues had closed it went to the desk of the judge.
The Donahue couple got their first NOD in the summer of 2010 from Fannie Mae. The eviction notice came after about one year. The notice said that just few days left before leaving the house where they had resided for about quarter of a century.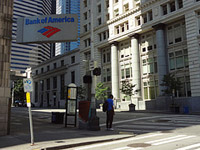 But Fannie Mae was not the owner of their mortgage. It was Bank of America that held it. At that time BofA was holding talks with the couple for modifying the loan when simultaneously the foreclosure process kicked off. A lawyer had to intervene and it took a day in court before Curtis Hertel Jr. the Register of Deeds of Ingham County could resolve the problem. A surprised Donahue exclaimed, "I still wonder how in the world they thought they had our mortgage".
Sixty one year old Donahoe was standing with Hertel and Rep Jim Ananich at a street corner in Lansing on Wednesday 17th August.  Ananich was addressing a news conference to discuss the bill that would bring in more judges into the foreclosure zone.
The usual method in Michigan is non-judicial; it is done through advertisements. The mortgage holder can foreclose by publishing the details of the property in a local newspaper and by posting the notice on the front door.
To change things Ananich (Democrat/Flint) had introduced the bill last May together with seven other representatives of the state (Democrats). By it a judge would have to review all the foreclosures on residences that were occupied by the owner. Since the last couple of months the office of Hertel has discovered over one hundred mortgage documents that had been probably been signed by persons who were not officials of the bank; they used names that were not their own.  More than 500 owners of residences (current and former) have been tracked down. MERS had foreclosed upon them.
Last April the Court of Appeals of Michigan State ruled that MERS cannot start foreclosures by advertising as it did not have any interest in the debts pertaining to them. The case pertained to two houses but it has cast doubts on thousands of other foreclosures.
Photo by pasa47