Nevada has been decimated by the Great Recession on three fronts – unemployment, foreclosures and underwater mortgages. The housing market bust created havoc for house owners and also for the entire construction industry that caused the staggering unemployment. To make matters worse the downturn on the national scale affected the tourist industry of Nevada – with gambling being the star attraction and the core of its economy. It led to more unemployment.
In 2010 December the unemployment rate in Nevada high-jumped to 14.9%. Since then it has gone down to 12.6% but it continues to remain higher than the rate of the nation. Over half of the unemployed have remained without jobs for a minimum of 6 months.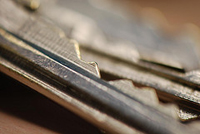 Out of a clutch of 16 houses, one is in foreclosure. The national rate is one foreclosure out of 69 houses. Over half the borrowers underwater and owe more than the value of their properties. Across America a fifth of the borrowers are underwater.
The tumbling of home prices has not stopped. According to S&P/Case Shiller the price of residences in Las Vegas, dropped by 9.1% from December 2010 till November 2012. Of 20 cities surveyed Las Vegas ranked second worst because of sale of high number of distressed properties.
The Obama government had launched multiple programmes for preventing foreclosure but it has not produced results worth noting; there has been no impact on the market at large. In Nevada too little success has been seen.
Gail Burks of Nevada Fair Housing Center (CEO) said, "While they've been helpful, they haven't addressed the heart of the problem. Nothing in Nevada has stemmed the tide and gotten the market back on track".
One of the troubled homeowners is Maria Plumeri who is struggling to get her loan modified. Together with her husband Paul she stopped making their housing loan payments from last September after the monthly amount of $1,200 became too much for them to carry on with, depending only on their Social Security and Maria's disability cheques. Their debt is now $189,000 while their house is currently worth $32,000.
The couple is not alone on this boat in Sandy Valley. Neighbours on both sides are rocking in the same boat. Sixty four-year old Plumeri said it is not uncommon to see 20 vacant houses in the locality. The government has not been able to help even a single one.
Photo by avlxyz