Last Thursday 16th February, one deputy died and another faced bullets when raiding an empty foreclosed house suspected to be a meth laboratory hub in Middleburg, Florida. The owner of the property said he did not know that squatters had taken up their abode in the house. The man, who declined to be identified, said he had been residing in the house for nearly a decade and was lagging behind in his housing loan. He had sought bankruptcy shelter. For three years he had not been living in the house and had never given authority to anybody else to be there; he had no idea about the unit being taken over anti-social elements.
The raid was being conducted on the Alligator Boulevard. One of the suspects was killed in the shooting and five of the others have been arrested.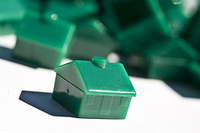 The house owners said he has kept touch with the Sheriff's office of Clay County about the shooting incident and added that he felt bad about the detective's death and the loss to his family.
Ray Sutton has been living in this area for the last two decades. He informed that houses by the dozens are lying here abandoned. Sutton said, "When the economy went down, I saw people start abandoning their house. I told the wife, 'Start watching the kids more. It's going to riffraff in".
Sutton said that these alleged drug peddlers that the deputies confronted had shifted into the unit that was two houses away from his nearly 6 months previously. He did not think they were illegally squatting. Walking down in front of the house 3 weeks previously he saw three cars enter the premises. He did not think much about it because it could be quite possible that a family had so many cars.
The deputies recounted that one or perhaps more of the 6 suspects were squatting in the house –  a one story unit. Neighbours did not report any unusual activity in the house.
Sandy Brooks another neighbour said she was shocked to see the killing of the deputy. Her grief is shared by the entire people of the neighbourhood. She and many others had come on Friday to extend their condolences to the colleagues of David White, the killed detective. The residents of the area said that in all likelihood there were other such laboratories in the area.
Sutton quipped, "I think they are everywhere. If you don't think you have one in your neighbourhood, you need to think again. They are everywhere".
Photo by woodleywonderworks