Presidential candidate septuagenarian Republican Ron Paul flew into Las Vega to kick off his rally at a casino in Henderson on 31st January.
Over a thousand attended whereas Newt Gingrich could draw only 200 listeners at Orlando on that same day. At Florida, Paul finished fourth in the primary, drawing 7%.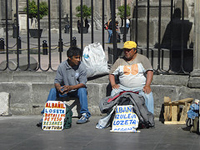 During the January 3rd caucuses, he ranked third with 21% of vote. Mitt Romney and Rick Santorum drew respectively 24.5% and 24.6%; Gingrich drew 13%.
During the recent Nevada caucuses, Romney got 48 % of votes while Newt Gingrich and Ron Paul trailed behind with 23% and 18% respectively.
Paul has a team of committed passionate followers who have been doing their homework for over 6 months, said the chairperson of the campaign, who is Carl Bunce at the rally on January 31st. James Barcia (deputy national press secretary) said they have been holding innumerable training sessions across Nevada to acquaint people with the caucus process as well about the candidate.
On college campuses, Paul is the only candidate who has a presence said associate professor David Damore of University of Nevada at Las Vegas. The only other campaign with strong grass-roots is that of Romney, said observers like Damore.
During 2008, Romney and Paul had got 51% and 14% respectively. Since then both candidates have maintained respective supporting bases.
Romney has poured in more dollars. Till last January 31st, the televised commercials that he had bought were double that of Paul; the other contenders had not spent at all on these commercials.
Paul is targeting the base of Romney – the Mormons.  Paul is trying to convince the Mormons that he and not Romney knows better about the Constitution of USA.  Barcia said, "Although the country might be ready for a Mormon president, we provide them with the notion that in terms of constitutionality, that we have the better candidate".
It's not just the Mormons – Paul is reaching out to gun-owners, home-school teachers, the veterans, the Latinos and workers in the hospitality segment.
Paul is also reaching out to prostitutes of legalized brothels. Their self-proclaimed pimp Bunny Ranch conducted a poll to note that 500 of the ladies who had last time supported Obama were now moving towards Paul. They had no problems with the womanizing of either Gingrich or Paul but thought Romney to be too square.
While Republicans squabble amongst themselves for the presidential crown, none has anything concrete to say about the staggering number of foreclosures and unemployment.
Photo by El mundo de Laura