There are borrowers numbering in the millions who now have the opportunity to have their foreclosure related cases reviewed; there is a chance they will get compensation checks as well.
The banking regulators of the federal government announced on January 15th that the time line for submitting applications for the same will be extended from April 30th till July 31st.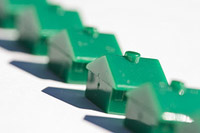 So far 89,000 ex-homeowners have asked for these reviews – a very small number considering letters had been sent out to 4 million by the government towards the end of 2011 telling them about this chance said Bryan Hubbard, spokesperson of Office of the Comptroller of the Currency.
The contention of consumers groups is that the letters were flawed by being couched in too heavy legal terms and loaded with advertisements; it failed to get their attention. Ira Rheingold of the National Association of Consumer Advocates said, "They've done a pretty lousy job on public outreach".
These reviews were conditions included in a settlement reached between the federal regulators and mortgage services numbering 14 in 2011. It was separate from the deal of $25 billion recently reached between 5 mega banks and the federal as well as state governments. Some of the entities are the same. Those harmed by foreclosure wrongs could avail of help from both these settlements.
According to the first one, the auditors would be engaged by the services but approval would have to be taken from the regulators prior to reviewing the cases. The letters sent to the consumers included 13 queries in a form asking the borrowers to give a description of how they were harmed financially by the foreclosure action.
Deborah Goldberg of National Fair Housing Alliance referring to the letters said these "looked like what you'd get from a loan scamming company. A lot of them probably got tossed".
The OCC monitored the settlement made with the Feds has not calculated how much it will cost the service providers. Apart from examining the cases of those borrowers, who are asking for reviews the auditors will make sample checks on other foreclosure-related cases numbering about 100,000, said Hubbard.
Those who were foreclosed upon from 2009 till 2010 will be able to avail of this benefit. Further information will be available from the web – independentforeclosurereview.com.
From the $25 billion settlement amount reached on February 9th, $1.5 billion will disbursed among 750,000 wronged borrowers. Each check would be around $2,000, depending on the particulars of each case. Loan reviews would not be required for the payouts.
The administrating authority dealing with the settlement will send out the claim-forms. It would be many months before the process completes its full course.
Photo by woodleywonderworks