The troubled homeowners in Utah have been left in the lurch with modest foreclosure funds. Utah will get $22 million from the banks through the Settlement of 9th February because of improper foreclosures. It will not be of significant help for those who have lost or are losing their houses because of wrong action by the banks.
The cash the state got from the Settlement was lumped with the general fund of the state during the concluding days of the last session of the Legislature; it means the money cannot be directly traced.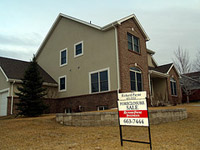 Housing advocates were keen that the money be used for plans to help prevention of foreclosures or to assist those who have lost their homes because of illegal foreclosures. Only $1.75 million has been allotted for programmes for those without homes. $2 million has been given to the office of the Attorney General for hiring more investigators to dig up mortgage fraud and for more prosecutors to prosecute them.
Senator Ben McAdams (Democrat/Salt Lake City) said "I'm disappointed. People of the state of Utah were harmed, and I think we should have provided relief to those who were affected by it. We shouldn't treat this like a windfall". He sponsored the related bill for allocating funds to the office of the Attorney General.
On 9th February a Settlement was reached between five mega banks and the federal and state governments for $25 billion. It was in response to an exposure about the wrong doings of the banks in their foreclosure operations.
Utah is one of the states that has suffered the most from the foreclosure crisis. Although initially it was said that the state would get $23 million it seems that finally the amount is $21.9 million said Ric Cantrell speaking on behalf of Utah Legislature.
Two days prior to the ending of the last Legislative session on 8th March $21.9 million was deposited in the general fund merging with other funds of the state.  It created a surplus of $51 million that was disbursed during the session's final hours.
The Rainy Day Fund was apportioned $11 million by the Executive Appropriations Committee. Cantrell parried that this amount cannot be directly traceable to the amount got from the Settlement. He agreed that the money came from the general fund but it cannot be said that it poured in directly from $21.9 million of the Settlement dollars.
Photo by david_shankbone