Ana Casas Wilson, in her late forties, facing foreclosure has been arrested for protesting against Wells Fargo. Together with many others she had been demonstrating in front of the house of the CFO of the bank.
Wilson, a resident of the working class locality of South Gate is threatened with eviction from the home where she has been residing since childhood. Like innumerable others she contends that the bank has intentionally not modified her loan and taken steps to foreclosure although she was prepared to be current.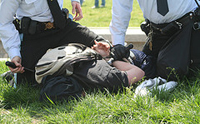 She has taken her grievances to the public forum – something that is becoming popular. She protested directly against the officials of the bank. She was backed by nearly 80 others who wanted to give their mortgage dues directly to the Chief Financial Officer, Tim Sloan. Apart from voicing their anger against foreclosures the group also was questioning an ordinance issued in 2011 that had made it more difficult to hold protests inside the areas where the rich reside.  As per the statue the demonstrators have to keep 150 feet distance from the house they are targeting. The ordinance was aimed to protect those who were victimized by picketing. High profile personnel needed to be protected from crime.
Peter Kuhns of Alliance of Californians for Community Empowerment said, "People are deciding to take this stand that was previously a little unthinkable. They are risking arrest, refusing to leave, getting their families involved and putting themselves out there". He has been helping to organize this particular and many other "home defense" operations.
Many are coming out of the feeling of shame connected with foreclosure. So far this had kept the people keep quiet previously although they knew very well that they were not in the wrong. More and more are now overcoming this sense of shame and willing to take the matter to the public because there seems to be no other line of recourse.
Wells Fargo did not say anything about the specific case of Wilson but parried the issue by saying that it tries its best to keep the people in their houses if possible. The bank tries to fit in the client in any of the help programmes of the federal government (HAMP/HARP/HAFA) as well as their own plans but if the house owner is lagging behind by 16 months it becomes difficult to adjust and accommodate.
Many of the affected tired of the situation are seeking the help of Occupy activists and they are meeting with success. Occupy our Homes is one such branch of the Occupy moment.
Photo by ElvertBarnes