A study on two cities of Southern California has shown that while foreclosures gobbled up some of the cities, others were spared. The tale of two cities highlights this trend. One weathered the storm with a couple of scratches but the other was battered and bruised.
Santa Paula is an oil town having a place in history. In 2000 it was encircled with fruit bearing orchards. The residents numbered 29,000 enjoying a median income per family of $42,000. When the sub-prime crisis burst upon the scene in the "Citrus Capital of the World" 16 out of a cluster of 1,000 houses were foreclosed – the number being far below America's average of 22 out of a cluster of 1,000 houses.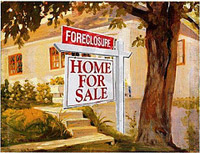 Lake Elsinore is another historical town, very similar to Santa Paula as regards size, income of families as in 2000. Today it is noted for its lake – the freshwater body being the biggest in the area, its shopping centres and its casino that is "California's Friendliest Cardroom". Foreclosures are high with 86 houses per a clutch of 1,000 being in the dreaded zone of foreclosure since the bursting of the bubble.
Political scientist Garrett Glasgow of Santa Barbara (University of California) said that the key factor is that Santa Paula followed policies of slow growth that put brakes on rampant construction of residential units; on the other hand Lake Elsinore courted growth aggressively. From 2000 till 2008 Lake Elsinore ranked 12th among the fastest growing cities in California. The slogan of the city was "Dream Extreme".
This pattern has been again and again replicated through the entire California State as per a study done recently by Urban Affairs Review. The authors were Garrett Glasgow together with Paul Lewis (Arizona State University) and Max Neiman (University of California). The stronger the anti-housing growth policy of the city council, the less was the number of foreclosures ten years afterwards.
The study indicates a view contrary to that held by the prevailing scholars regarding public policy. It has been said that the cities were swept away without having any say by bigger waves. But the authors noted, "Although the foreclosure crisis was driven by national and global forces, more cautious local government policy approaches to residential growth appeared to moderate the damage …One might claim that if more cities had made an effort to manage growth, then   the housing meltdown might have been significantly less burdensome".
Photo by Mike Licht, NotionsCapital.com