Perched on bank rooftop demonstrators protest against foreclosure in the Mission District of San Francisco. Six persons clambered on to the rooftop of Wells Fargo around noon while nearly 200 activists crowded the streets near the bank. After ten minute later the firefighting force put up a ladder but till 12.35 pm none had climbed it.
The events were being observed by a scattering of police personnel from the streets and the sidewalks. The police declared that on their part no arrests would be made until and unless the bank asked them to take action.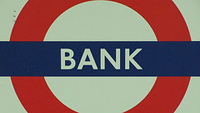 The activists chanted, "What do we want? No evictions and foreclosures for profit. They take our roof; we take their roof"! By demonstrating on the roof the protestors tried to drive home the message that the banks were taking away from the people the very basic symbol of living – the roof above their heads.
Some of the demonstrators held aloft signs that read, "Bank: No more evictions and foreclosures for profit".
The demonstrators did not disrupt the traffic and the buses plied as usual. Life flowed on without interruption.
On Saturday morning (14th January) a statement was released by the organizing group – Occupy SF Housing. It said that they were "targeting people for predatory equity scams, Ellis Act evictions or immoral home loans – can no longer be tolerated".
The coalition of Occupy SF Housing comprises of other groups – Occupy San Francisco, Housing Rights Committee of San Francisco, Tenants Union and other community organizations apart from individuals. The coalition declared that their target was to prevent the banks from evicting the tenants and the house owners using the foreclosure process.
Ted Guillicksen, a member of San Francisco Tenants Union said that everyone knows how the mega banks have wrongly been throwing out house owners. But less known is how these banks are also throwing out tenants by teaming up with the investors and speculators who are buying up apartments and building so as to increase the rents of all the tenants or to sell the houses they have acquired or are taking over as profitable condos.
The organizers of the event said that the protests on 14th January, Saturday was only an introductory move for a bigger demonstration that is aiming to close down the financial district of San Francisco.
Photo by HowardLake