Contact Form - ForeclosureRepos.com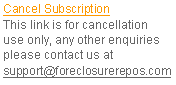 CONTACT CCBILL FOR BILLING QUESTIONS
You may dial CCBILL toll-free Customer support line at any time at 1-888-596-9279. Open 24 hours a day, 7 days a week. You may also send an email with your subscription information to support@ccbill.com. When sending your request, please provide as much information as possible, e.g., subscription ID number, email address, username, last name, and ZIP code.