First of all, it would be good if we defined real estate foreclosure. In essence it is a property that has undergone all appropriate lawful procedures that allows a bank to trade or have ownership of the property due to a payment failure of a loan that is secured by the same holding.
I guess with that information, everyone will agree that this is a truly devastating situation. Yes, real estate foreclosure can cause both financial and emotional devastation. It would be a good thing then to try by all means possible to avoid real estate foreclosure. I believe no one would wish to lose their dream homes or be robed of it at a time so unexpected.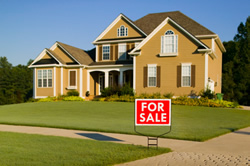 Money or financial problems can get anyone. This can be caused by unemployment, retrenchment, retirement, illness, injury, death of a family member, separation, divorce or even just loss of overtime privileges at your workplace. It is however comforting to know that there are steps you can take to avoid getting into a real estate foreclosure. You can get necessary help to keep your home. Keenly and carefully follow the necessary steps am going to share with you and I am sure your home will be yours to keep.
First, make it a point to reach your lender soonest possible when financial problems get you. Avoid the myths that land people into real estate foreclosure. These lenders are human beings like you and they also know real estate foreclosure is expensive. They are also obliged to work aggressively to help borrowers facing financial problems. This process of getting in touch with your lender could be faster if you knew their contacts. Your payment coupon book and statements will give you this information.
Remember, when calling your lender you have to have your loan account number with you, explain your situation properly and have your current income documents like household expenses list, tax returns, benefit statements and pay stubs with you. There is a loan workout package that your lender will mail you after this call. Quickly fill the forms therein fully and truthfully and return them to your lender. This will greatly assist avoid real estate foreclosure.
Secondly, you could still feel uncomfortable to meet the lender or talk to him personally. You may in this situation seek the help of a housing counselor. This counselor will help you after reviewing your financial situation and negotiate with your lender. The counselor will also furnish you with information on services and programs that provide legal medical and financial assistance all of which are vital if you are to escape real estate foreclosure.
Thirdly, never sideline your debts in your budget. Instead, prioritize them. This may involve tightening your budget. Always remember the importance of good credit record.
Finally, explore your loan workout solution with your lender if you are to avoid real estate foreclosure.
The wounds from real estate foreclosure may never heal. Try as much as possible to avoid it.
Nevertheless, we are not saying that real estate foreclosure is totally bad. It is also good for those who cannot afford to buy homes due to insufficient funds. It is in fact the best option. Homes in real estate foreclosure cost 20-50% less than similar homes. They are available in almost all cities. This is indeed a lifetime opportunity that you cannot let pass you.
There are several internet resources that can help you get a real estate foreclosure. For instance, visit ForeclosureRepos.com for the best listings of real estate foreclosure. They have the best deals and a lot of guidance plus couple of information on real estate foreclosure.